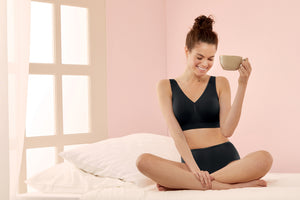 Your Bra
Buying a bra that fits well and makes you feel good is an important part of being a woman. A well-fitted bra can make all the difference to your appearance, your posture and your clothes. This is especially true after breast surgery. A bra that fits close to your chest wall between the cups with enough depth of material between the cups to cover the breast form will allow you the confidence to move as much as you want and dress as you did before.
A Mastectomy Bra has a specially designed pocket in the cup to hold the breast form. At Supreme Silhouette, we stock a large variety of styles of bras in all shapes and sizes.
Your Prosthesis
Your breast form is designed to mimic your natural breast and they do. Made from materials that resemble the movement, feel and weight of your natural breast, they come in different shapes, sizes, profiles and colours that feel soft and smooth to the touch. We carry a wide range of breast forms from many different suppliers ensures that we have the right shape for you.
If your surgery has only slightly altered the shape or size of your breast, partial breast forms work really well to balance out your shape and restore an even silhouette. This may not become obvious for up to a year after surgery.
Partial Breast forms will also benefit unequal size breasts which can occur naturally or after breast re-construction surgery during the healing process.